Feet of My People is a digital platform that mimics the balance of nature to bring people, art, activism, and animals into perfect harmony.
We tackle the issue of animal cruelty with good humor, hard truth, and a bit of sass, spreading the animal rights conversation to all ages, backgrounds, and beliefs. Our goal is to move this conversation beyond depressing statistics and graphic images and instead uplift and inspire people to make small changes that can make a huge difference. Our ecommerce store is fueled by the passion of young artists and activists, and a percentage of each sale goes directly to the artist as well as to organizations that are doing the hard work of ending animal cruelty. Our website is full of tools and information to inspire the next generation to take action and end the industries that profit off our beloved animals.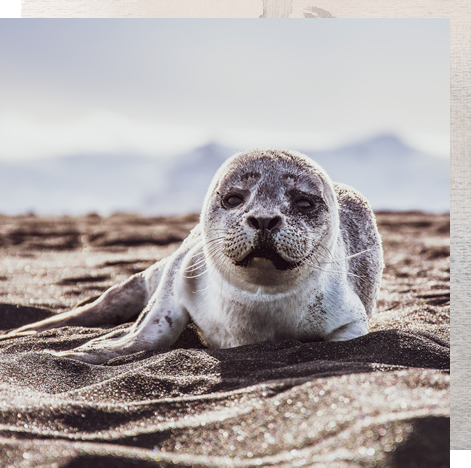 Learn more about Sarah Baker, founder of Feet of My People, and why she is a passionate voice for all animals.
Why Do Animal Rights Matter To You?
I think the question is, why don't they matter to more people? Animals are amazing. I like to think of them as the universe's greatest creation. They are exactly what they are supposed to be, and I think people would function better if we learned to live like they live. Every single animal has something to teach us, but instead of learning from them, we use them and torture them and take away everything that makes them so incredibly special. I sometimes think I was born into the wrong species, because I feel such a deep rooted connection to the animal kingdom and feel so much emotion for them. After the experience I had interning at the Farm Sanctuary, I could no longer imagine a world where I'm not fighting for their rights and their lives.

TELL US ABOUT YOUR EXPERIENCE AT THE FARM SANCTUARY.
My first experience at Farm Sanctuary was profoundly life changing. The month I spent there cemented the passion and need I felt leading up to it. Not only was I spending everyday around these incredible animals that so many people disregard (while I fell utterly in love with them), but I was learning so many critical things about animal cruelty and animal rights. For the first time in my life, I felt like I was exactly where I was supposed to be. I wasn't thinking about what happened the day before or what was going to happen tomorrow, I was just existing in that moment. I spent most of my days picking up poop and cleaning out barns but if felt amazing to be working for the animals. I have traveled all over the world and lived overseas, but I had never felt more inspired and alive then when I was at that farm. I left there not knowing exactly what I was going to do, but knowing with certainty, I would one day help change the world for animals.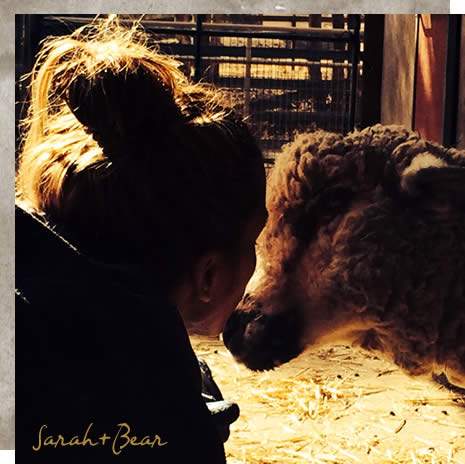 DO YOU HAVE ANY ANIMALS IN YOUR LIFE WITH
SPECIAL MEANING?
Well my dogs of course. But there are two other animals who have left prints on my heart that will stay forever. I like to call Sophie and Bear my great loves. Sophie was a pig at Farm Sanctuary's Acton location. I fell in love with her during my internship. Everything about her was perfect. Especially her too long tongue that hung out of her mouth. She was always the first one at the troughs and the last one to leave them. She loved fruit more than anyone and would take you out if you stood in the way of her favorite apples! My husband sponsored Bear for me as an anniversary gift before I went for my internship. My dogs names are Hippo and Moose so the fact that she is a sheep and her name is Bear was a done deal. I definitely loved her before I met her but actually getting to spend every day with her is what deepened that love. Since leaving my internship, I have managed to go back to the farm every few months to stay for a weekend, and I always make sure Bear and I get special time.

HOW WOULD YOU DESCRIBE YOURSELF AND YOUR WORK FOR ANIMAL RIGHTS?
I would describe myself as someone who fights for what she believes in. My heart outweighs my head every time, and I will speak what's on my mind if it matters to me. I'm compassionate, honest, and genuinely curious. Over the years I have donated time and resources, signed a lot of petitions, spent many hours mucking barns and have helped lots of people go vegan, but honestly, my work is just beginning.